This application allows you to consistently name files taken with different cameras. It makes sorting and archiving very easy.

It is basically the same as the below exiftimestamp but it is written in C++ instead of perl. It is much easier to install because it has no dependency other than standard libraries and itself. It runs under Linux, Mac and Windows.

If you are using Windows and you are afraid of the command line then just go to your filemanager. It's drag and drop from within the graphical user interface of the filemanager: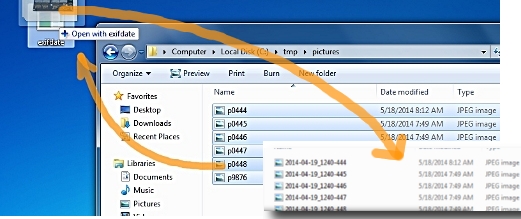 p0444.jpg -> 2014-04-19_1240-444.jpg
p0445.jpg -> 2014-04-19_1240-445.jpg
...

Download:
exifdate-1.7.tar.gz
, 2021-03-30, 1695558 bytes
Previous versions:
exifdate-1.6.tar.gz
, 2020-02-07, 1694137 bytes , as zip-archive:
exifdate-1.6.zip
, 2020-02-07, 1700591 bytes
exifdate-1.5.tar.gz
, 2019-08-26, 1694684 bytes , as zip-archive:
exifdate-1.5.zip
, 2019-08-26, 1698121 bytes
exifdate-1.4.tar.gz
, 2019-07-19, 1479809 bytes , as zip-archive:
exifdate-1.4.zip
, 2019-07-19, 1485599 bytes
exifdate-1.3.tar.gz
, 2019-06-08, 1473189 bytes , as zip-archive:
exifdate-1.3.zip
, 2019-06-09, 1478534 bytes
exifdate-1.2.tar.gz
, 2019-01-06, 1375249 bytes , as zip-archive:
exifdate-1.2.zip
, 2019-01-06, 1380467 bytes
exifdate-1.1.tar.gz
, 2014-05-27, 1307654 bytes , as zip-archive:
exifdate-1.1.zip
, 2014-05-27, 1312993 bytes
exifdate-1.0.tar.gz
, 2014-05-19, 959390 bytes , as zip-archive:
exifdate-1.0.zip
, 2014-05-19, 951894 bytes
-